In the early days of "Not by Bread Alone," Junior Banza and I discussed what a treasure it would be if Church members could see and hear senior Church leaders reflect firsthand on their experiences in Africa. Given the direct involvement of several of them in the growth of the Church on the continent as well as their long-term prophetic perspective on its past and future, this would provide an unparalleled view of the divine unfolding of these events from a front-row seat.
Due to existing, essential demands for their comments from professional journalists and newscasters in and out of the Church on top of an already impossible load in carrying out their primary Church responsibilities, there seemed little hope for our prospects. With some sheepishness, I broached the subject with sympathetic colleagues at the Church History Department, but the initial feedback was not encouraging.
However, after Matthew J. Grow, Managing Director of the Church History Department, became aware of our request, he saw enough value in it that he agreed to help. Thanks to him and to others who generously assisted behind the scenes, the request was brought forward to a successful end. Some weeks later, to our surprise and incredible delight, Junior and I found ourselves on a set in the basement of the Church Office Building for a two-hour face-to-face video conversation with Elder Dale G. and Sister Ruth L. Renlund.
The short video linked at the end of this blog post—entitled "Elder and Sister Renlund: Falling in Love with the Peoples of Africa"—is the first of multiple excerpts from the conversation that will be posted publicly in the coming year. We hope that something of the joy they experienced in their service will be felt by everyone who watches these video excerpts.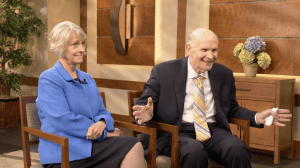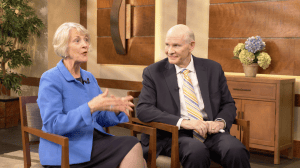 We loved the warm, personal, and personable manner of the Renlunds, and the way they melded as a couple [2, 3]
The excerpt in this first video short centers around some of the Renlunds' first impressions when they began their service in the Africa Southeast Area, which at the time included over thirty countries. And during the six years they served there, prior to Elder Renlund's calling as an apostle in 2015, they traveled more than 40 times to the DR Congo. In doing so, they made a concerted effort to travel even to the most remote areas and to visit as many Saints as possible in their own homes. The stories they tell are filled with love and admiration for the faithful Saints they came to know firsthand through their ministering efforts. And as we listen, it becomes obvious why they were so beloved of the Saints in return.
View Credits, Notes, and References

Music by R Newphi Kaluwa.

[1] Photo ID: A71DA74E-717A-4EBC-B194-B6A207EAE6F4-B8FF1198-13BB-4CB3-B345-AA2D313393F4.jpeg, 11 October 2023. Photo courtesy of Alan Douglas Rast, an experienced Church broadcast producer who made arrangements for the shoot and kindly assisted with our work in the studio. In addition, we were grateful for the help of Darren Maxfield (lighting), Eric Limburg (audio), and Jody Hadfield (make-up). My talented nephew, David Bradshaw of David Bradshaw Videography LLC, expertly managed the three cameras.

[2] Photo ID: Screenshot 2023-10-12 at 06.28.03.png, 11 October 2023. Still from interview video, camera 3.

[3] Photo ID: Screenshot 2023-10-12 at 06.28.46.png, 11 October 2023. Still from interview video, camera 3.